IBM announced last year that it was going to allow employees to ship breastmilk home from work trips as a benefit for employees.  I was excited when I heard as I was pregnant with my now 5 month old twin girls.  Even though I breastfed the boys for 15 months I never had to travel.  With my current job I knew that travel was going to happen.  The process was relatively painless. First, I had to fill out a form with my hotel information and my return address information for the refrigeration boxes they were going to mail to me.  Then I had to email the completed form to a specific address for UPS.  I didn't get an email response right away so I was concerned that my request hadn't gone through.  But then a couple days before my trip I finally got a response.  The response included the three tracking numbers (I had requested two boxes for my three day business trip).  I had specified that I wanted the boxes there by Monday.  The next time I do it I'll request it for the day before because when I arrived to my hotel the shipment was not there yet.  It wasn't a big issue as I was able to find a fridge to refrigerate the milk before I had to ship anyways.  Oh, I also was able to pump on the plane!  The delta flight I took had an outlet so I pumped close to when we were about to land and no one heard the pump because the sound of the engines overpowered the noise of the pump.
After work on Monday I checked into the hotel and asked if my package had arrived. It had… and it was HUGE.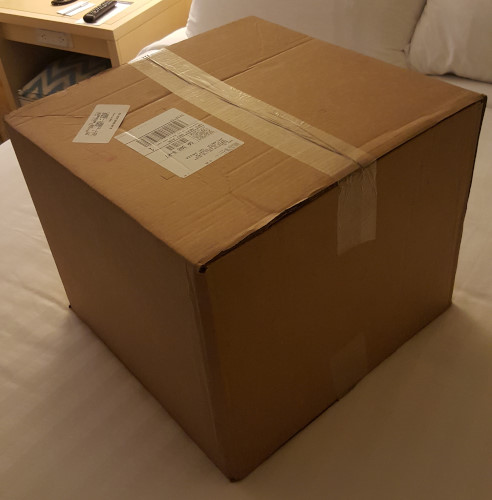 I had to truck it along with all of my luggage up three flights of stairs (no elevator at my hotel).  Inside were the two boxes I had ordered.
When placing the request I wasn't sure how many boxes to specify since I was gone for 3 days.  I didn't know how much milk each one would hold.  The first box that I returned had 24 hours worth of milk and it barely closed.  I ended up pumping 12 bags worth of milk that ranged in size from 5 to 9 ounces. Hopefully I closed it enough so the milk doesn't spoil on it's return trip.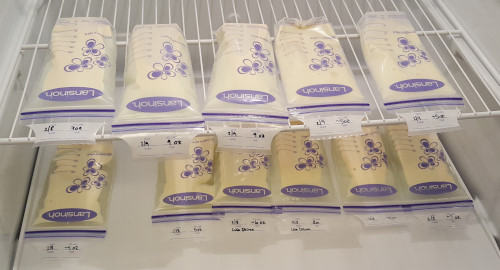 Packaging up the milk was very straight forward.  I put the baggies that I had to supply with my milk into the cooler.  I activated the cooling mechanism by compressing a little button. Then I closed it up with the supplied tape, perishable sticker, and shipping label.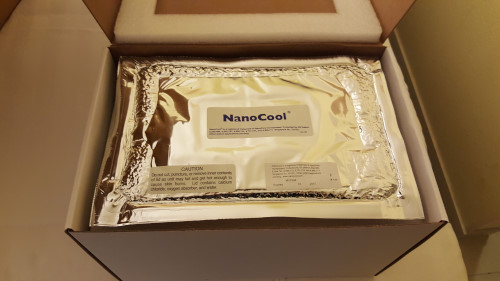 Since I am traveling I wasn't sure where to take the box for UPS to pick it up so I arranged for a pickup from my hotel lobby.  IBM supplied an account code to cover the cost of a pickup being scheduled but they didn't provide the zip code on the account.  So unfortunately I couldn't arrange for the pickup over their website, I had to call UPS to schedule.  When I called I did ask for the zip code so I should be able to arrange for a pickup for future packages.  When I got back to the hotel in the evening the package was still there. Their pickup window was 8 am – 8pm.  However, I just checked the tracking information on the UPS website and it says it will be delivered by 10:45 am tomorrow.  That will be nice for our au pair, Paty, during the day so she won't have to worry about using frozen milk.
I'll update this post on the receiving end to talk about my experience with the milk that made it home but sending the milk home was pretty painless.
Actually pumping milk while on a full day design camp meeting was not ideal.  Sneaking away and trying to find a room that no one was using or would interrupt me in was a challenge.  Then it took a while to setup my equipment, actually pump, then transfer the milk into the bags and wash out the bottles and pump parts.  The entire process takes about 20 – 30 minutes.  Today I was in a rush to get back and didn't fully dry the pump parts so the next time I pumped it was not efficient and I ended up with a clogged duct and engorged breast.  Talk about painful!  It is a million times easier to throw a baby on and in 6 minutes be able to go back to work.
Overall I feel so lucky that this health benefit exists at IBM.  Had it not, I'd probably just be pumping and dumping and worrying about getting in an "extra pump" on days I wasn't travelling in order to have enough milk just in case I had to travel for work unexpectedly.
Things to Remember to bring when Pumping on a Work Trip
your pump

pump parts
pump bra
hooter hider (hide the pumping on the airplane or if other people are around for some other reason)
LOTS of extra bags
sharpie to write on the bags
bottles with lids
a hand towel to make sure your parts are extra dry
an extra bag to carry all of this stuff. I didn't have one that was easy to move around with me.