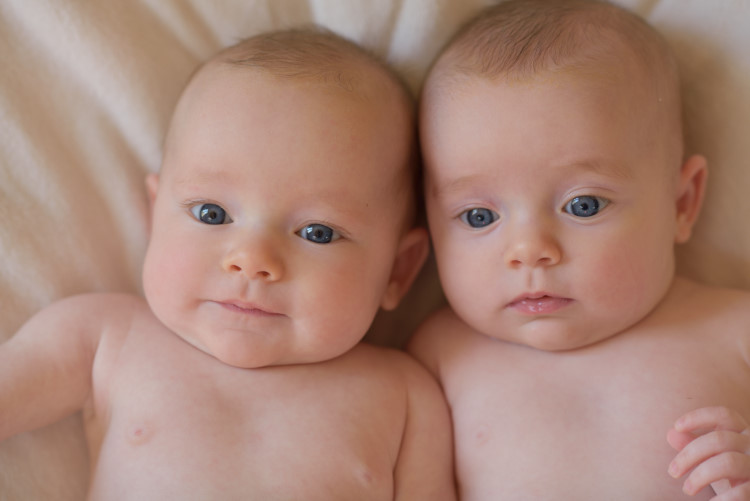 It's hard to believe these two little sweethearts have only been in our lives for 3 months.  Time is flying by.  They really are the sweetest babies.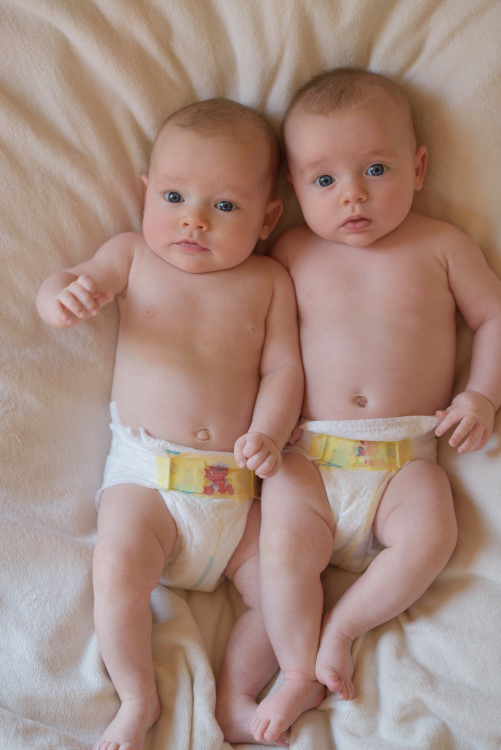 They are both wearing size 2 diapers, although they are a little big on both of them.  Emily and Olivia both hate having a poopy diaper.  If there is anything in their diapers they are sure to let us know about it.  They both have beautiful smiles.  My favorite thing to do these days is get them to crack a smile.  They love being talked to, even by their big brothers.  Their eyes are gorgeous and both seem to be a similar shade of blue.  We moved the girls upstairs and my office downstairs.  My mom got the girls these cute little butterflies and we attached them to the ceiling fan.  They love to sit in their cribs and watch as the butterflies "fly" above them.  Both girls still love to be held and snuggle in little little monkeys.  Emily and Olivia are both amazing eaters… and efficient.  They're already taking less than 10 minutes a feeding and then they're done.
Emily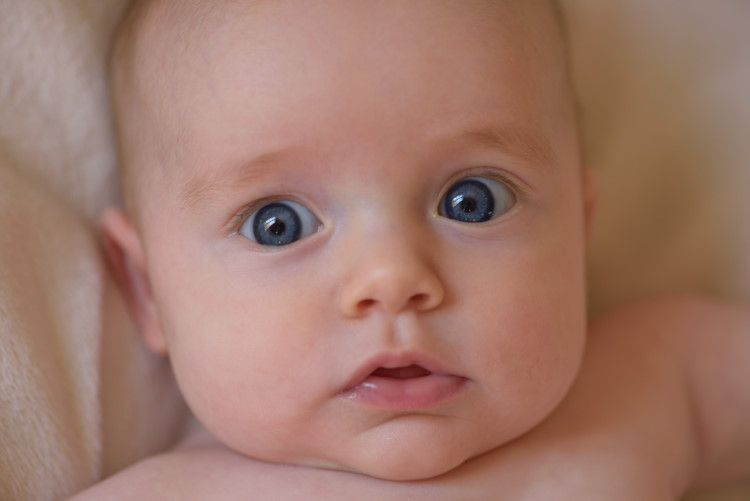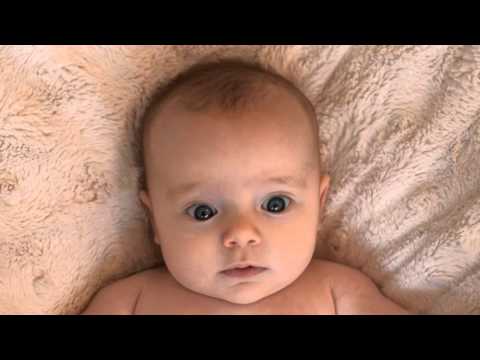 Emily has been doing awesome sleeping.  She made it over a week sleeping 7+ hours each night.  We decided to let her sleep instead of waking her up with Olivia wanted to eat because Olivia has been sick and we were curious how long Emily could go.  

In the mornings she can be found talking to herself with sweet gurgles waiting patiently in her crib for someone to come and get her.
Emily is always wide eyed and looking around, afraid to miss a thing.
Her eyes!! She has the biggest blue eyes  just like her brother Anthony.
They are both getting very strong.  Emily seems to like tummy time more than Olivia and can hold her head up pretty high.
Emily loves to eat.  Which typically means she overeats and spits up whatever her stomach can't hold.  Then she gives us the biggest content smile.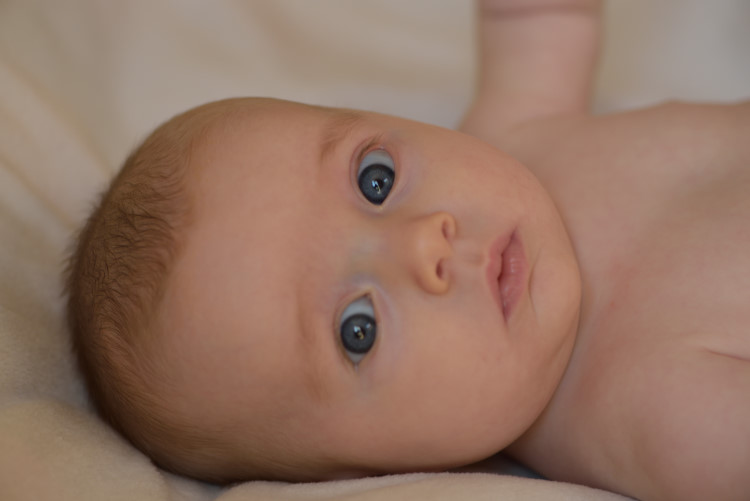 Olivia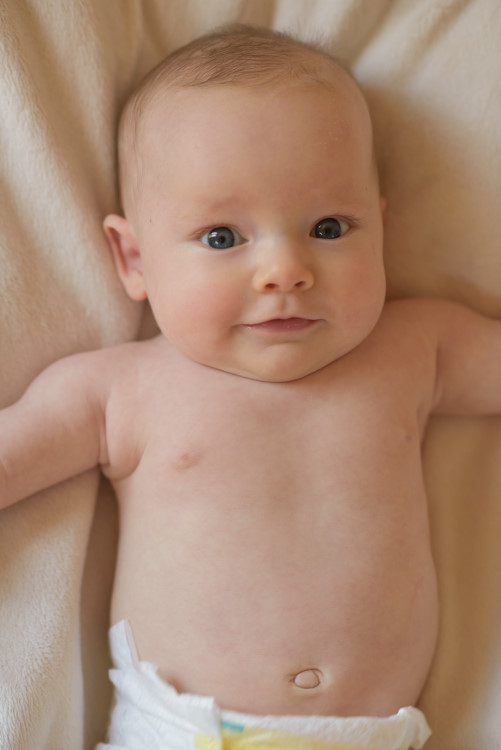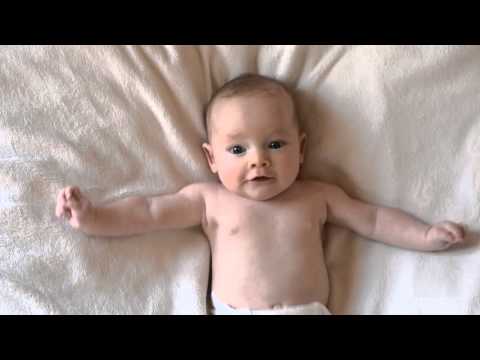 Olivia is still waking up every 3 hours at night to feed.  She has been pretty sick though so half the time I'm not sure if she's hungry or if she's just having trouble breathing through her coughing fits.

Olivia likes quiet.  She'll get really upset and stop eating on me if her brothers are making too much noise around her.  Sometimes I'll have to take her to a quiet dark room and escape the chaos to get her to finish eating.
Have I mentioned how cute her half grin is that she got from me?!?
Her eyelashes!!
She has the cutest little belly button.  It looks like it's an almost outtie.  Reminds me of an @ sign.
Us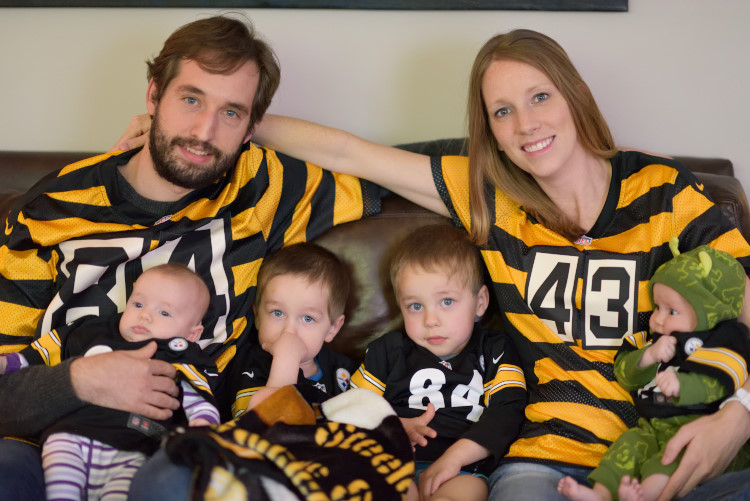 We are getting an au pair!  We are so excited that Patricia Freitas de Lima Matos will be joining our family starting in January.  She gets to the United States on the 4th but has a training session and won't get to our place until the 8th.  We've done a few Skype video calls with her so far and know she is going to fit in nicely with our family.  

My mom leaves on Wednesday to head back to Montana to get my dad.  Then the two of them are driving across the country back to Baltimore to spend the holidays with us.  We're lucky we'll get to celebrate both of their birthdays as well.  We can't wait to see Grandpa and I'm sure Grandma is excited as well.
My maternity leave is going by way too fast.  I have to go back to work the 4th of January.  Our old nanny, Ann, offered to help me out that first week until our au pair starts the following week.
We have definitely gotten into a routine.  Steve has been waking up early with the boys and taking them to school and then coming home to swap cars so that we have the minivan.  Then around noon we swing by the school to grab the boys and feed them lunch and try to get them down for a nap around 1.  It usually takes them until around 2 to finally fall asleep (probably doesn't help that they're in the same room talking to each other).  Then we usually have someone come over to help between 3 and 3:30 in the afternoon when the boys wake up until 6pm.  The girls are still in the infant phase of sleeping on demand but they are getting to where they take a long nap in the morning and another one in the afternoon.
We had a few guests this month including Aunt Leslie, Uncle Lonnie, and Katie.  It was amazing having 6 extra arms to watch and play with all the kiddos.  We definitely miss them.  Nathan is still asking "Where is Katie and her friends in the basement?".