The boys were blessed to celebrate their very first birthday with so many friends and family members.  My Aunt Laurie, Grandma Richardson, mother, sister Sara, and Sara's two sons all flew in early to help.  It was a lot of work organizing the food, making the deserts, and rearranging the house.  But it turned out beautiful.  Thank you guys for your help!
Only thing I would've changed was how the boys felt.  As I mentioned in an earlier post, the boys had 4 shots on their actual birthday.  They had super high fevers and were all around in bad spirits.  That meant for their party they were a little overwhelmed by having so much attention… they did a lot of sleeping.
People Photos
Somehow I didn't manage to get a group shot of everyone…. But here are a few from earlier in the evening:
The Food
The Cake
The cake was my favorite part.  I found this neat cake mix at the store that created a rainbow effect.  Everyone helped make it, even Knox.  He enjoyed seeing how different colors mixed together made new colors.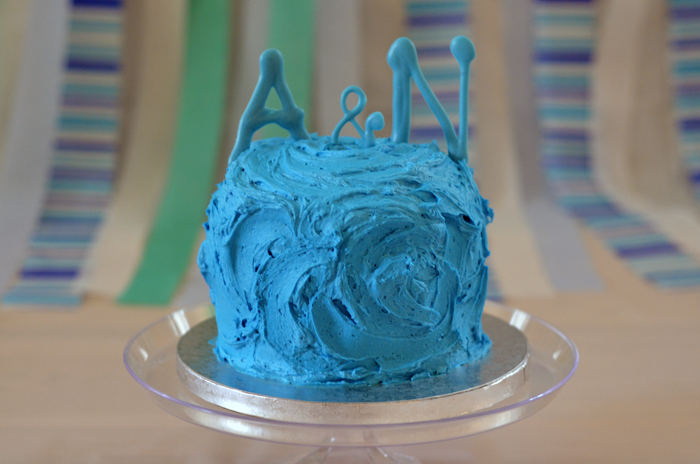 The Cake Smashing
Not as glamorous as I imagined the cake smash to be… Nathan was definitely not interested.  Anthony humored us and at least sat there next to the cake.  He was doing this super cute shoulder rolling that I'd never seen him do before.  Luckily Banks was there to show them how to dive in.  Thank you Uncle Chuck for capturing the memories.  Grandma Seacat took a 15 minute video so when I can get that from her I'll update this post with a video.
Thank you everyone for making their first birthday unforgettable.  They loved all of the gifts and seeing everyone's smiling faces.