The boys had their first experience with class photos!  I'm not sure how the photographers did it but they managed to get a few of the boys together that turned out really adorable.  We ended up purchasing all 10 photos so we can hang them in our home until next years photos.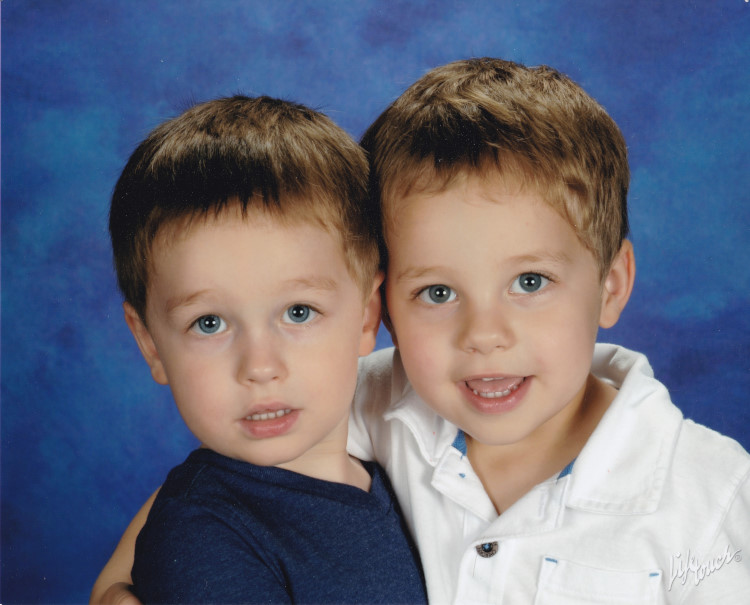 I love the picture of the boys holding hands…
Speaking of school, the boys are loving it.  They are learning a ton and do a new craft project almost daily.  Here's a summary that the school emailed about about their current activities:
2'S NEWS
We had a fun week discussing explorers & exploring new things last week. We made wooden boats, paper boats, spotting scopes, a boat decorated with spices (new things to smell) and a collage of new textures. We also read some books about exploration to find new places and animals, and some books we could feel new textures.
The children heard us talk about our 5 senses as we discussed the smelling of the spices, seeing with the spotting scope, feeling the textures with our fingers, hearing songs in music class and tasting
We were very lucky to have such beautiful weather for outside play. We tried to squeeze in as much time on the playground as possible. The next 2 weeks we will be making some Halloween decorations and learning some new poems about pumpkins and ghosts. Most of the class has already caught on to a fun song about a "witch with a pointy hat on her head," which we are singing with the entire school at Opening Exercises.
Now that the weather is cooler and more of our students are wearing jackets to school, please remember to label them. We encourage the children to be independent when removing their jackets and getting them into the cubbies. You may have heard talk of the "jacket flip," a technique we use for more independence putting on their jackets. Remembering to push up long shirt sleeves when washing their hands is also being encouraged.