I have fallen in love.  Not that I wasn't already in love with these beautiful little girls but this past month has been so much fun. The girls are all smiles, all the time.  They are the best babies.  They laugh and giggle and always are grinning.  Sometimes I'll go to get them in the mornings and they're just quietly looking around, no crying at all.  In fact, the only time they really cry is when they have a poop, are hungry, or if they're over tired.  But even then their cries are cute, I can't think of a better word to describe them.  Our house is finally starting to get healthy again, including the girls.  They have a little bit of congestion but this is probably the healthiest we've all been since they came home from the hospital.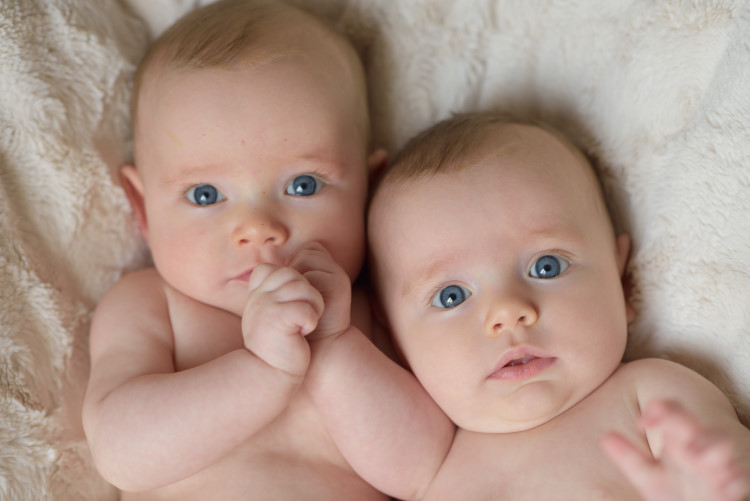 Similarities
The girls are the best eaters.  It takes them 6 – 8 minutes tops eating and they're done.  

They're going 3 hours during the day between feedings.
At night they usually have a long stretch when we first put them down and then it's shorter.  Typically it's 5 hours if we're lucky, then 4, then 3.
They are in size 2 diapers.  I ordered WAY too many diapers.  I was looking back at the blog post of the boys at 4 months and I can see why I did.  The girls are going to get too big before I use all of our size 2s.
The tend to poop once every 3 days.  The night before a big poop they can get a little cranky but overall it's not too bad.  When they finally do go it's typically a blow out which requires an outfit change and a butt bath.
They are so strong and love tummies.
We are still exclusively breastfeeding them.  Although the pediatrician did say we could start them on solids if we wanted.  She recommended some time between 4 and 6 months old.
They both have gorgeous blue eyes that look pretty similar to each other.
This month they started to notice each other.  They'll talk to each other and smile.
During their 4 month checkup they got a lot of shots: DTAP, DPV, HIB, Preunar-13, Rotarix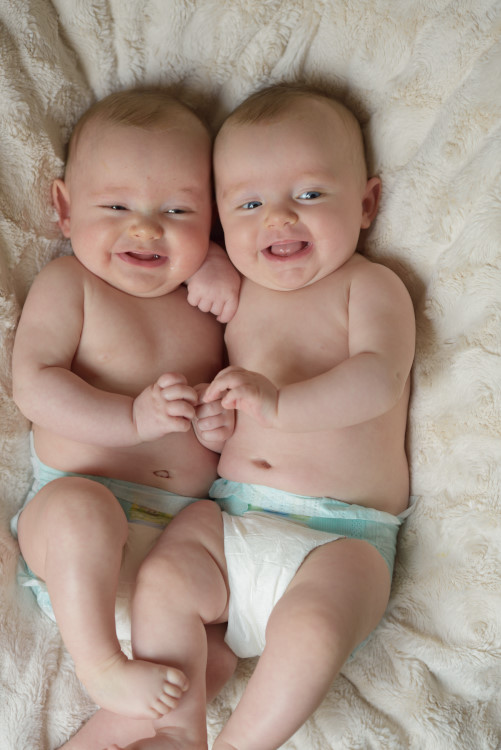 ** the girls giggling at Paty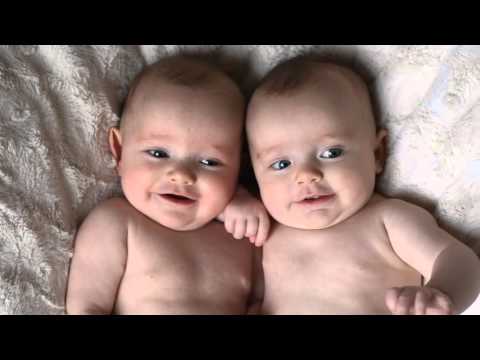 The hardest part about this month's photoshoot was narrowing down which photos to use.  They are all so cute!
Emily
Height: 24 1/2 " (50th percentile)

Weight: 14 lbs (50th percentile)
Head circumference: 16″ (50th percentile)
Nicknames: "Ems" "Emmy"
Emily is so calm and patient, I love her little personality already.
Emily is loving, if Olivia is crying she starts to cry too.
She is growing some great "folds".  Changing her diaper requires a lot of careful whipping to make sure we get all the creases.
Emily has been talking a lot lately, most to herself.  It's a cute squeak noise, see the video below.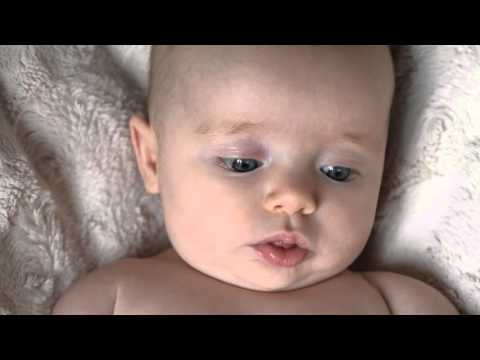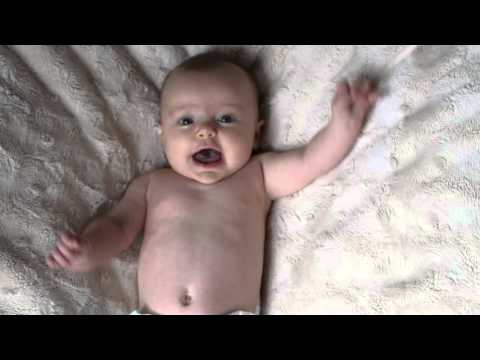 Olivia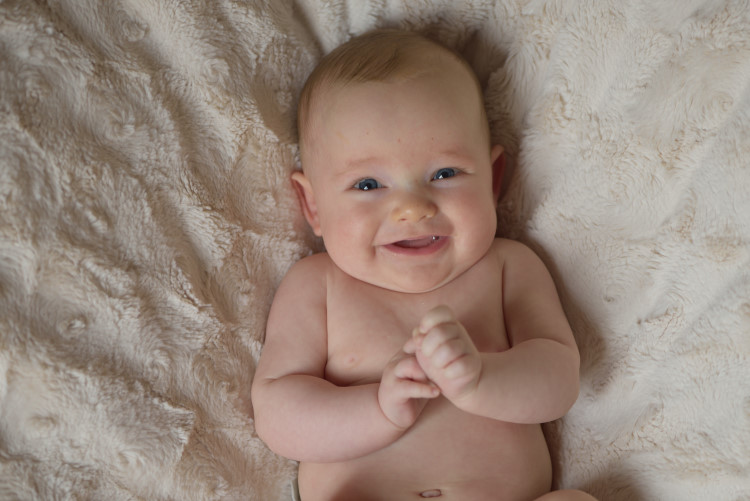 Height: 24 1/4″ (49th percentile)

Weight: 13lbs 6 oz (26th percentile)
Head circumference: 16″ (50th percentile)
Nicknames: "Livia" "O"
Olivia is also calm but not as patient.  She really hates noises and will cry if the boys are running around too much.
Olivia loves putting her hands in her mouth and playing with her hands in general.  She's currently got a bunch of little cuts on her face.  I keep trying to cut her nails but somehow she still manages to hurt herself.
Olivia is a slobber monster.  I wonder if that means she's going to get teeth first.
Olivia doesn't talk as much as Emily but she makes gurgling noises.  She's more the googoo gaagaa talking, whereas Emily squeals and squeaks.
During our photoshoot Paty helped to make the girls laugh and look at the camera.  She brought out this really cool bubble machine and Olivia got to see bubbles for the first time.  It was so cute watching her look at them and try to figure out what was happening.  Check out this video:  You can see her reaction as they pop on her face.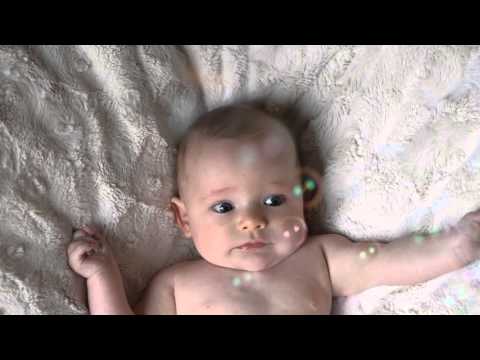 Predictions
Olivia will be the first to crawl and walk

Emily will be the first to go from a crawl to a sitting position
Emily will be the first to talk, and be more talkative
Olivia will be a little quieter
They both are going to be so smart just like their brothers
Us
I started back to work this past week.  It felt good to be back and start getting a routine going.  Plus I love my job so the days just fly by.  The girls were so good the entire week.  The hard part though was the boys.  They just didn't want to take a nap which meant I had to do a lot of screaming until Alissa got there in the afternoon.  Which resulted in me making it so the boys stay at school now until 3 instead of noon.  They'll start their longer days next week.  It should make it easier on Paty as well not having to feed the boys lunch every day.

I'm wasting away… I weighed 126 lbs this morning when I weighed myself which is way less than I normally weigh and probably less than I weighed in high school.  I eat so much and am always starving.
The weight isn't the only thing falling off of me, so is my hair.  It happened with the boys but I don't remember it being this bad.  All of our drains are clogged and I'm pulling hair out in clumps.  I am scared to comb through my hair or put it in a ponytail.  I can't wait for this post partum side effect to be over.
I've still got my linea negra but it's fading.
Steve and I both have had our moments of breaking down this past month.
The boys are such great big brothers, they like to help by pressing the diaper pail button when we're changing the girls diapers.  They also enjoy putting pacifiers in their mouths or rocking them.  They love their baby sisters and can even tell them a part.
Grandma and Grandpa Seacat got to spend a couple weeks with us, including their birthdays and Christmas.  It was so fun to have them here.  Unfortunately they had to leave us to go on vacation… whatever that is.  *tear*
We got our au pair!  Patricia Freitas is here!  We picked her up yesterday from the bus stop.  The boys have taken a liking to her and of course the girls love her.  It's fun to see how quickly she fit right into our family.  I am so glad she is here and am looking forward to the coming year.  One of the things I'm most looking forward to is Steve and I are even planning to do a date night on Fridays… a much needed night of just the two of us.
These girls have my heart.  I love our little family!!